After many years of continuous improvement and market temper, V Series Hyper Pressure Grinder as self-developed patent products of Vipeak Heavy Industry Machinery Co.,Ltd, which occupy the absolute predominance in the market competition,with its constant grinding work area, rolling pressure, high yield, unit energy Low consumption and other characteristics ,have been forged as an indestructible market tool of Vipeak, since they were launched in 2011.They have won trust and favorable comment from the majority of users deeply and their market share is continually rising. In 2016, YCVXO-YHRZ series models are innovative high-end grinding equipment upgraded on the basis of original grinder by our senior experts who combine the advanced grinding technology from home and abroad ,study the previous design of V Series Grinder for many year and utilize practical experience. Through more than six months of practice to verify, good news frequently spread out from equipment application sites .Finally,it proves that perfect upgrade of V series grinder is fulfilled.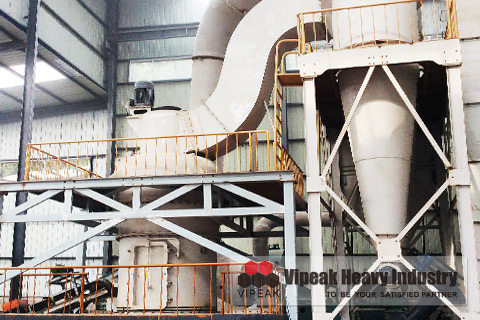 Related Case 1: Weifang , Shandong Province Annual Output of 80,000 Tons of Bentonite Super Powder Processing Project
Project Overview: the company was founded in 1898, specializing in bentonite powder processing. Zhao is always the person in charge of the enterprise, with large and small milling equipment ten, who belongs to a expert-level mill user. In 2010, he purchased a large YGM190 high-pressure milling machine in our company .Out of the great interest in design ideas and advantages of V series high pressure as well as high recognition and trust to Vipeak, the company developed V series mill and the original 190 milling machine achieved a successful transformation, production increased by 20%, highlighting the energy-saving advantages. In recent years,through the gradual upgrading , the production capacity of V series mill has a substantial increase in energy efficiency. Through the present study and demonstration of YCVX190-YHRZ design characteristics and operation results, Zhao jointly re-upgraded the field equipment with our company in October 2016. Through the operation of the past few months, although some limitations to the original equipment preparation, the output did not reach the existing design capacity of 190, it had reached the customer's expectations, the production of 325 mesh bentonite powder more than 90% , the capacity over 12 tons per hour. Above all,the ton power consumption than in the past can save more than 10%. There are five equipment in the customer sites, including 1700,1800 equipment produced in Guilin. Compared with other companies' V series mill, ours can consume lowest energy. As a result, the running time of our machine is also the longest, as Zhao said that using the mill,we can save electricity and every shift is very considerable,which are converted into our profits, so we would like to use this equipment.
Raw material: bentonite, water 12%
Product requirements: 325 mesh ≧ 90%
Suitable equipment: YCV190 type one
Capacity: ≧ 12 tons / hour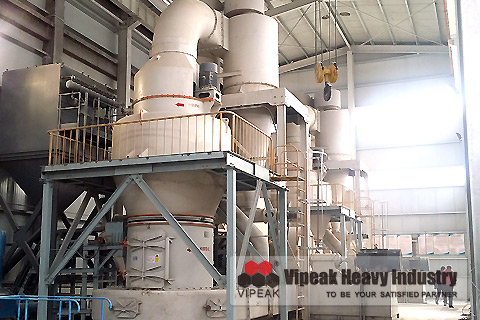 Case 2:Xiushan,Chongqing Province Annual Capacity of 80,000 Tons of Limestone Powder Production Line
Project Overview: A customer, living in Xiushan,Chongqing, bought a YCVXO160-YHRZ mill in 2016,who chose the product of Vipeak from competitors without any hesitation and even not visited the company then signed a contract. He paid more attention to the intelligence, efficiency, energy saving, environmental protection and other superior performance of our V series mill. Through a few months to practice, the operation of the equipment is stable and the output reaches customer expectations.Though there is still room for improvement. customers are very satisfied with the equipment.We end up with the fact that if customers pay a great trust to Vipeak , we will make a great surprise to our customers.
Raw material: dolomite
Product requirements: 325 mesh ≧ 95%
Suitable equipment: YCVXO160-YHRZ
Capacity: ≧ 12 tons / hour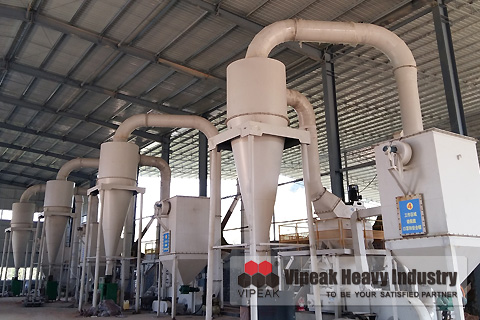 Case 3: Chuzhou,Anhui Province Annual Output of 200,000 Tons of Limestone Mixing Plant Blending Materials Processing Projects
Project Overview: Chuzhou,Anhui customers purchased a YCVXO190 grinding mill machine in October, 2015 from our company, to process limestone for 150 mesh and the finished products used for the asphalt mixing plant. The capacity of the mill can be adjusted range from 26 to30 tons per hour. Moreover ,through the long-term operation, the equipment not only reflects the strong stability of the performance, but also the mill unit energy consumption is much lower than 5R Raymond , which bring economic benefits customers. Based on the good performance of the equipment and the customer's peace of mind experience, customers purchase mobile crushing station in 2016, without hesitation once again choosing Vipeak. At present, the station equipment is running well and also reach the customer's height recognition.
Raw material: limestone
Product requirements: 150 mesh = D90
Suitable equipment: YCVXO160-YHRZ
Capacity: 26-30 tons / hour