CHALCO, China Aluminum Corporation, is not only China's largest alumina producer, but also the largest producer of primary aluminum. Meanwhile China is the largest aluminum market in the world. The main products of China aluminum industry are alumina and primary aluminum and its emissions of air pollutants are mainly sulfur-containing flue gas. For China's aluminum industry enterprises, it has strict requirements to water pollutants and air pollutants emissions, so it becomes the top priority of aluminum industry enterprises how to carry out cleaner production, the development of circular economy, the choice of economic and rational comprehensive treatment technology route for flue gas, and the exploitation of related sets of technical equipment and technical specifications. For CHALCO, as the largest aluminum oxide producer in China, it also has a very strict requirement for environmental protection.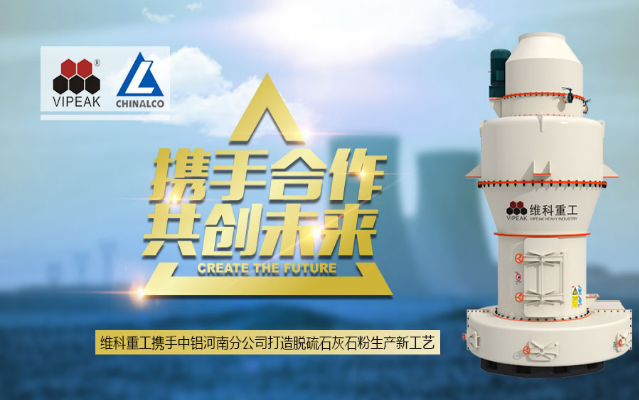 In order to find an effective desulfurization powder production equipment, CHALCO has a more in-depth understanding of the new grinding mill through the communication with Vipeak and the sales' introduction, and then give a fully affirmed to limestone powder production line program that we offered after themselves' investigating. Finally they chose to use full set of High Pressure Ultrafine Grinder production line for the desulfurization of limestone powder.
Program principal said that the limestone powder production line use our YCV(O)130 Type High Pressure Ultrafine Grinder which using the company's own research and development for grinding 325 mesh desulfurization fine powder, and the screening rate up to 92% and the capacity over 7 tons per hour after it putting into operation. A fully set of equipment with smoothly and good running, not only to meet customers demand on production, but also has outstanding performance in environmental protection and energy saving. High Pressure Ultrafine Grinder has a great upgrade in the fine powder and ultra-fine powder production which gathered our company's research, innovative technology, a new grinding structure designs by breaking the traditional design concept for many years.
With the national policy on the growing importance of environmental issues, we believe that there will be more companies need economic and rational pollution control program, not only aluminum industry enterprises. Vipeak, as the industry's authoritative professional grinding mill manufacturer, has accumulation of quality for many years. The fourth generation grinding mill has a qualitative change with Professional research, development and production forces and a good completely quality assurance. Furthermore, we have more professional equipment installation and technical guidance team and completely after - sales service system. And our experienced engineers would supervise and guide from the site planning and machine's selection and design to installation and commissioning, which makes customers no worries while they using our machine.