Thermal power has always been the main power in the electricity in China, and its power generation amount accounts for over 70% of the total national power. At the same time, the pollution of thermal power is one of the main source of air pollution in our country and increases the inhalable particles in the air.
Power plant pollutants can be divided into several categories like solid, liquid and gas and noise. (1) dust, including dust and fly ash. The PM10 accounted for 20 ~ 40%; (2) the sulfur dioxide (SO2) :after combusted at high temperature, most of coal oxidizes into sulfur dioxide, which is the main reason for acid rain. Reducing emissions of sulfur dioxide from power plant is essential; (3) Nitrogen oxide (NO):nitrogen oxides discharged from coal-fired power plant, mainly nitric oxide, nitrogen dioxide, are harmful to human body;(4) waste waters:waste waters of power plant are mainly ash waste water, dust removing water, industrial sewage, domestic sewage, soda acid liquid and hot water drainage, having effects on emissions of biological environment; 6. Noises: the noises of the power plant are mainly high frequency noise when the boiler exhausts steam, up to 130 db(A).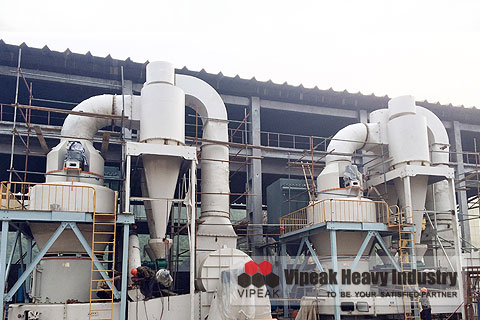 Vipeak's mill equipments of years of research process limestone powder for power plant desulphurization. Vipeak continues to cooperate with major domestic thermal power generation enterprises like huadian, huaneng, datang and guodian for years. Equipments can run smoothly for a long time. In terms of environmental equipments for power plant desulfurization, Vipeak has been far ahead in the same industry. Vipeak will be committed to in-depth study and exploration of equipment technology, improving equipment performance, and striving to lead in the state environmental protection requirements, provide high value-added products for each big thermal power enterprises, create greater profit for Vipeak's clients and make contributions to the state environmental protection career.
Since 2016, Vipeak has invested a large amount of manpower and resources in developing the mills and has granted over 20 patents combined with years of practical experience on customer sites. Since put into market, the hyper pressure v type grinders get high performance at the customer sites and walk in the technical front of mill manufacturing. In 2016, YHR series new type mill is launched.
YCVXO-Q4-YHR series v type mill is improved in the aspect of "durability" and "stability" on the basis of the advantages of high efficiency and energy saving:change S-shaped sphere top support structure into built-in plane sliding support structure to further strengthen the structure stability;at the same time change S series vertical shaft exposed wear-resisting casing in the middle for the built-in wear-resisting casing for both ends so the vertical shaft is longer, the support span larger; To optimize the design of the roller assembly, change double-roller matched structure into eccentric wheel type booster structure;YHR series are upgraded on the whole and made on the basis of YGMXO-Q4-Y platform and have high versatility with "Y" Series.
Vipeak continues to provide high quality products to customers in the market with new series mills, and provide the stable equipments and technical support for power plant desulfurization and the state environmental protection career.